OG wins The International twice, becomes world's richest eathletes
OG made esports history last week when they won their second Aegis of the Immortals. No one has ever done that in the history of Dota 2. What's more impressive is they've done so back-to-back, something that TI7 champion Kuroky only dreamed of. OG has etched themselves on the annals of esports history and will always be remembered as one of the greatest Dota 2 teams ever.
To be the man, you've got to beat the man
OG won their first International in 2018, when they beat Chinese favorites PSG.LGD. Fans were delighted at the success of OG, who at the time was ranked lowest among all eighteen participants of TI8. Being the ultimate underdogs of the tournament, many have doubted their chances in winning the Aegis. In fact, even during their Grand Finals matchup, they were still considered no match to PSG.LGD.
OG's success in TI8 was seen by some as a series of flukes, winning with an incredible amount of luck. However, the fans didn't think of it that way. The team's Cinderella run has endeared themselves to many Dota players and spectators. When they won against PSG.LGD, the crowd roared in both glee and disbelief. However, OG won TI8 without ever facing the defending champions, Team Liquid, in the Main Stage. In fact, they lost twice against Team Liquid during TI8's group stages.
Their history with Team Liquid makes their win at TI9 more significant. Rising from their loss in the previous year, Team Liquid reemerged as the top contenders against OG at TI9. For the first time in Dota history, there will be repeat champions for TI. It was only a question of who: will it be the TI7 champions, who never got the chance to defend their title against OG, or the TI8 champions, who returned in TI9 looking better than ever?
Doubters of OG must have nothing left to say when they defeated Team Liquid cleanly in this year's The International. Not only did OG win their second International, they did so by beating another champion. There can't have been any better team to challenge OG, and beating Team Liquid cemented OG's dominance in the game.
Richest eathletes
Dota 2 eathletes are among the richest in the eathletes in the world. Valve's sustained support for the game and its competitive scene has brought in lots of dollars for the game. In addition to this, Dota 2 remains one of the most popular games played globally, and one of the most lavish. Sitting on top of the money pile is OG, with a collective winnings of $30 million.
Now the world's richest eathlete, Johan "N0tail" Sundstein now has almost $7 million to his name. Following him closely is Jesse "JerAx" Vainikka, with $6.5 million career earnings, Anathan "ana" Pham with $6 million and Sébastien "Ceb" Debs with $5.5 million. Their newest member, Topias Miikka "Topson" Taavitsainen, has most of his earnings sourced entirely from his two TI winnings, which sums up to just a little above $5 million. Fun fact: Topson is the only Dota 2 player to have won all of The International events he has attended, a feat that probably no one would ever break, ever.
The mainstream media has also caught wind of the news, too. Australian TV news network 7NEWS Australia reported how ana's earnings in TI9 alone is enough to put him in the highest earning athletes lists in Australia. Imagine being that rich that young for doing what you truly love – esports.
Cult Icons
More than just winning a ton of money, OG also rightfully earned the respect and admiration of many fans. Besides their skills in-game, the team is well-known for being fun-loving, with their coach-turned-player Ceb encouraging the team during their TI8 championship match that they should play for fun, win or lose, they play as a team. The team's chemistry has endeared themselves to the fans, proving that team work trumps individual skills. None of OG's members is considered to be the best of their positions, but OG itself is considered as the world's best Dota 2 team.
This kind of attitude and their fun loving nature has spawned countless fan arts and memes from the Dota 2 community. OG also plays along these memes, lightheartedly making fun of themselves as well in the process. OG also shows a lot of love towards the fans, usually extending their fan signing sessions to accommodate more people, genuinely interacting with them, and overall just being nice to the community.
Fans of OG love them so much that they don't stop at making memes and fan art of the players. In the Philippines, a fan of OG even put the team's studio image on a billboard.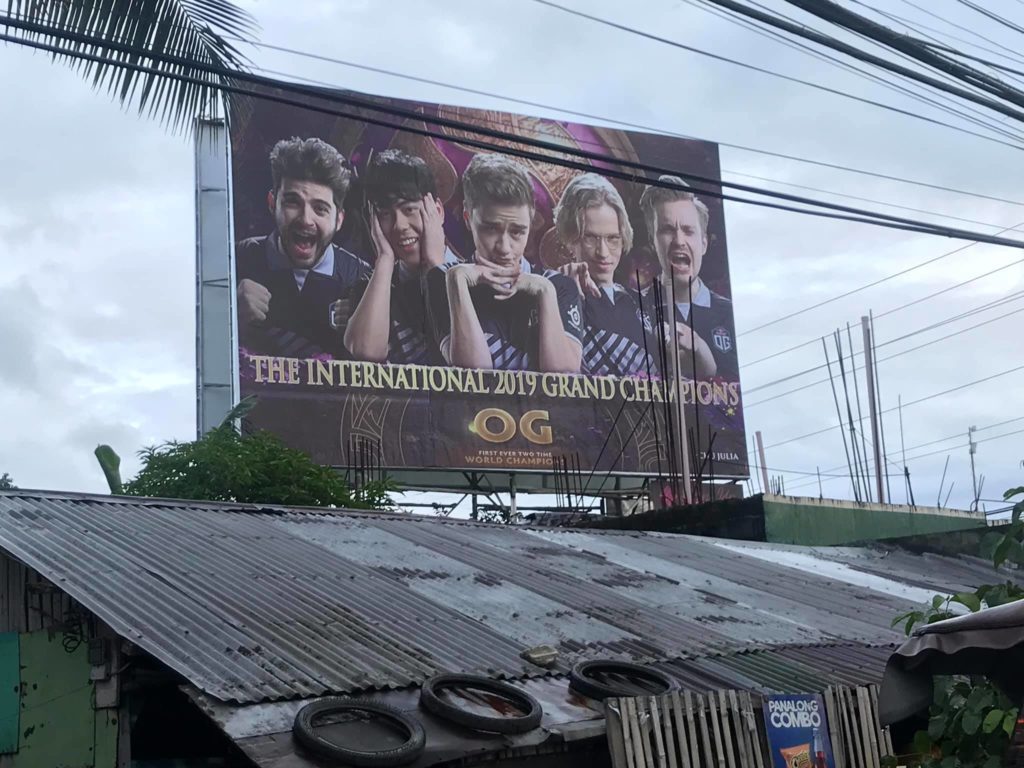 Building a Legacy
This kind of success is the makings of a legacy that OG is one TI win away from achieving. Winning a three-peat of The International will not only crown them three-time champions, but it will also turn them into living legends in the esports scene. Their routines, strategies and psychology will become the stuff coaches and captains would study and talk about. But such a legacy is still a year away from fruition. A lot could happen between now and TI10. However, OG, calm as always, doesn't seem to be pressured at all. Only time will tell if OG will be able to fulfill their destiny.